Explosives Detection Kit, for forensic EOD / IEDD
We provide robust and flexible bomb disposal solutions to goverment and civil agencies worldwide. Including bomb disposal equipment for EOD (Explosive Ordnance Disposal) & IEDD (Improvised Explosive Device Disposal) Defeat Operators, Bomb Technicians and teams working in some of the most hostile environments and war zones on the planet; including Afghanistan, Iraq and Sudan.
Using the latest technologies we provide every component required for EOD and IEDD. Ranging from full bomb suits through to individual components; such as nomex gloves, EOD helmets, a range of vehicle, hook and line, building entry kits, forensic gathering equipment, non-magnetic spark proof toolkits, and even fully fitted EOD / IEDD vehicles. If you can't see what you're looking for listed here, please send us an email or contact us.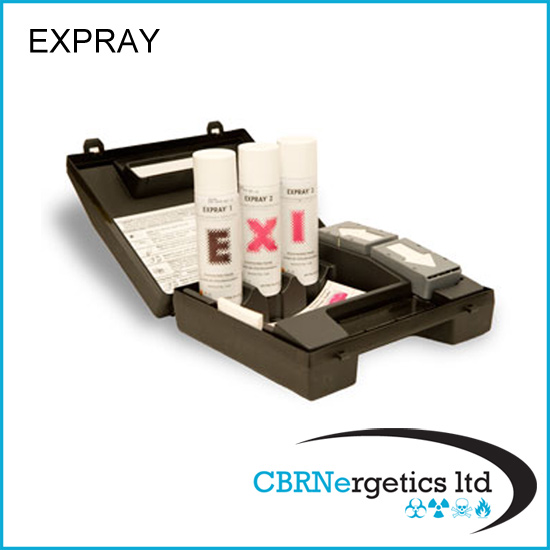 Technical Specifications:
Expray Kit -
Explosives Detection Kit, for forensic EOD / IEDD
NSN: (50 tests) 6665015548022
NSN: (100 tests) 6665015548014
Expray is a unique, aerosol-based field test kit for the detection and identification of Group A explosives (e.g. TNT, TNB, etc.), Group B explosives (e.g. Semtex H, RDX, C4, etc.) and compounds containing inorganic nitrates that are used in improvised explosives (e.g. ANFO). Expray is used as a pre-blast, analytical tool, and post-blast investigative tool, to screen against potential terrorist elements, and as a technical evaluation test in soil remediation on hazardous material "clean-up" sites. When used as a post-blast investigative tool, the product is proven to speed up 
crucial investigations.

The kits are widely used in areas of conflict to rapidly screen individuals, items, and vehicles prior to permitting site access and for separating suspects for further questioning. The kits are inexpensive, rugged and require no training, allowing their rapid deployment and effective use. Results are nearly instantaneous. No additional tools, equipment, or electrical power are necessary allowing the kits to be used in the most primitive conditions.