CBRNergetics Limited provide robust and flexible CBRNe solutions to goverment and civil agencies worldwide. Including chemical detection equipment: AP4C, Coriolis and the full Proengin product family.
Using the latest technologies we provide every component required for EOD and IEDD. Ranging from full bomb suitsthrough to individual components; such as nomex gloves, EOD helmets, a range of vehicle, hook and line, building entry kits, forensic gathering equipment, non-magnetic spark proof toolkits, and even fully fitted EOD / IEDD vehicles. If you can't see what you're looking for listed here, please send us an email or contact us.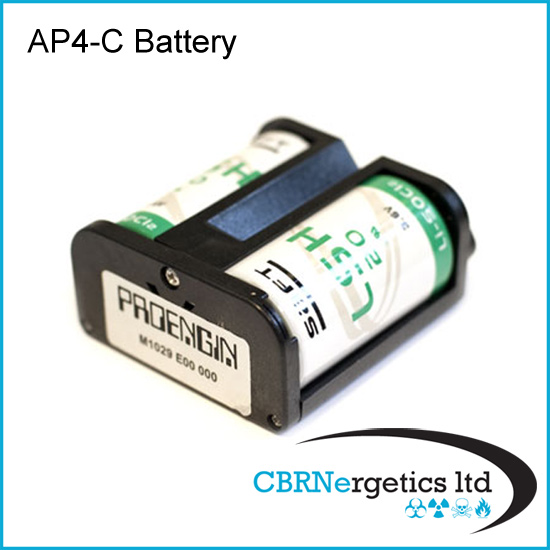 Technical Specifications:
AP4C Battery
NSN 6135-14-434-0766
The SAFT 2LSH20GP battery supplies the AP4C. This is a set including 2 elements (liquid cathode lithium thionyl chloride Li-SOCl2).
Autonomy of the AP4C:
• at + 50° C (+122° F) 18 hours
• at + 20°C (+ 68° F) 24 hours
• at 0°C (+ 32° F) 11 hours
• at – 10°C (+ 14° F) 6 hours
• at – 32°C (-25.6° F) 3 hours
• Nominal capacity: 12Ah
• Nominal voltage at 20°C (68°F): 7 V
• Max current: 2.5 A
• Size (LxWxH): 68 mm x 69.75 mm x 34 mm
(2.7" x 2.74" x 1.34")
• Weight: 250 g
• Operating temperature: -32°C to +55°C (-25.6°F to +131°F)
• Recommended storage temperature: <20°C (68°F)
• NATO reference: 6135-14-434-0766
• Storage: 3 to 4 years max